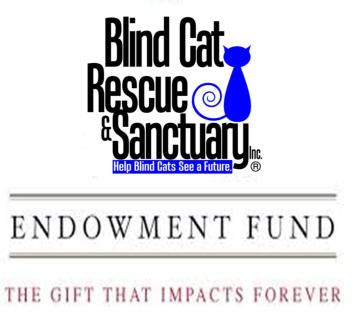 With part of the prize winnings from Eagle Rare we established an endowment
fund to ensure the cats at Blind Cat Rescue will be protected forever.
The Blind Cat Rescue Endowment is a permanent, self-sustaining source of funding
that will support all the services we provide for the animals forever.
We are very excited to be partnering with the North Carolina Community
Foundation in creating this permanent fund to benefit the animals.
To donate to our endowment, send your check to:
NCCF,
4601 Six Forks Road, Suite 524,
Raleigh, NC 27609 USA. Please put a note that it is for the
Blind Cat Rescue endowment. Your donation is 100% tax deductible.
For stock gifts please contact John Hartley, Director of Finance for
the delivery instructions.
If you have any questions about our endowment fund you may contact the
NC Community Foundation at 919-828-4387 www.nccommunityfoundation.org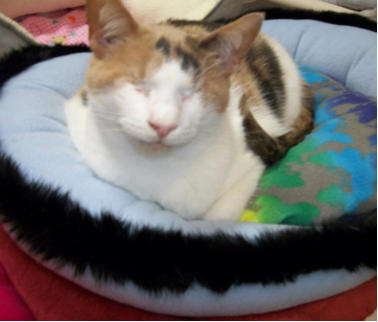 Message to our donors
Blind Cat Rescue will never
sell, rent or lease our donor
information to other organizations.
Our financial statements, Board of
Directors, Audited Financial and
990's are all listed
HERE
At our cage free no-kill shelter in St. Paul's NC, we are presently caring for
91 cats whose age, medical condition, temperament or other special needs
makes them even more precious in our eyes. We hope you feel the same
because we truly can not do this without your help!
Just like the rest of us, these furry folks need nourishing food, safe shelter and
regular medical care. Blind Cat Rescue is a private, non-profit organization
receiving no government funds. We are funded entirely by kind people like you.
Please help us continue helping cats like Popcorn
by making a generous donation to Blind Cat
Rescue now.
If you would like to mail a check,
Please make your check out to
Blind Cat Rescue
and mail it to:
3101 E Great Marsh Church Road,
St Pauls, NC 28384 USA
Tribute gifts are a special way to honor loved ones and the
special occasions in the lives of people and their pets. We
will acknowledge your tribute with a card or email to your
honoree letting them know you made a gift in their honor.
To make a tribute gift by credit card, click the donation button:
Please EMAIL us the information for the tribute gift:
tribute@blindcatrescue.com
Please send us the email address or mailing address and
if you could also give us a little bit information about the
tribute so we may send the right card.
Leave a Legacy in your Will
A donor can designate Blind Cat Rescue &
Sanctuary, Inc. as a recipient of all or any portion of
his/her estate; however this can only be accomplished
through a will or other estate-planning document. Your
attorney will be able to set this up for you.
Planned gifts can have a big impact if made in the
form of life insurance. There are ways life insurance
might be used to benefit a charitable organization.
For example, the donor might wish to take out a
new policy or change an existing policy and designate
Blind Cat Rescue & Sanctuary, Inc. as the beneficiary.
Premiums may be tax deductible and represent a
modest investment when compared to the death
benefit that would be used to impact the cats at Blind
Cat Rescue.
For tax purposes, everyone's financial situation is
unique: please contact your tax advisor.
Donating through your employer's workplace giving campaign is a
simple way to help homeless cats. Many companies will even match
your donation, doubling or tripling the impact of your gift!
Some companies even match gifts made by retirees and/or
spouses, too. And many employees also offer volunteer
matching programs that match employee voluntarism
with corporate donations!
Here is a list of many companies that match.
If you do not find your employer, please check
with your human resources department to see
if your company offers a matching program.
Federal Employees Combined Federal Campaign:
Blind Cat Rescue CFC Number is 67324
NC State Combined State Campaign
Blind Cat Rescue CFC Number is 3859
State, County, Municipal or University Employees:
Blind Cat Rescue participates in numerous state,
county, municipal and university employee
campaigns. Check your campaign brochure
to see if Blind Cat Rescue is an option. If you do
not find us, please email us
(
alana@blindcatrescue.com
)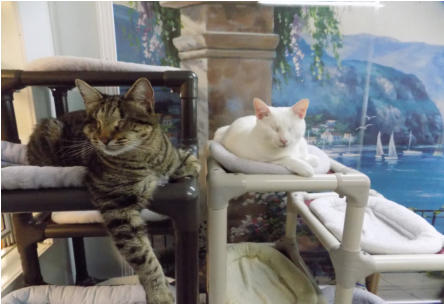 Donate Long - Term Appreciated Securities
Donating long-term appreciated securities directly to Blind Cat Rescue - rather
than selling the assets and then donating the cash proceeds - is one of the best
and easiest ways for you to give more. By taking advantage of the applicable
tax incentives, you can significantly increase the amount of funds available
for charitable giving.
The two key advantages:
* Any long - term appreciated securities with unrealized gains (meaning they
were purchased over a year ago, and have a current value greater
than their original cost) may be donated to a public charity and a tax deduction
taken for the full fair market value of the securities - up to 30% of your
adjusted gross income.
* Since the securities are donated rather than sold, capital gains taxes from
selling the securities no longer apply. The more appreciation the securities
have, the greater the tax savings will be.
For tax purposes, everyone's financial situation is unique: please contact
your tax advisor.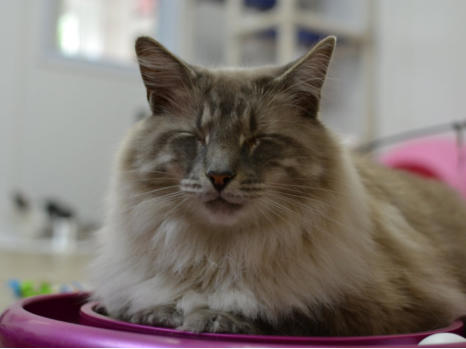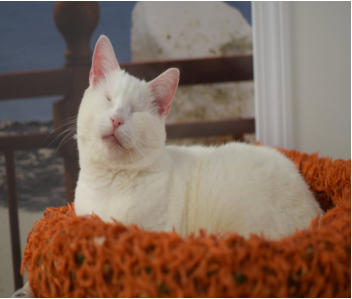 Popcorn was found laying in the middle of a road by a local woman.
She thought it was a dead cat and was horrified when the cat moved!
Bless her, she stopped and helped her. She found popcorn sick,
starving and 2 holes in her head where eyes used to be. She felt she
was in way over her head with the little cat and contacted us!
Because of wonderful people like you, we were able to say Yes
to Popcorn and get her the medical care she was desperate for.
Now she lives in her forever home at Blind Cat Rescue, loved
and cared for. YOU make this possible! With out the generosity
and caring of people like you, we could not make miracles happen
for cats like Popcorn.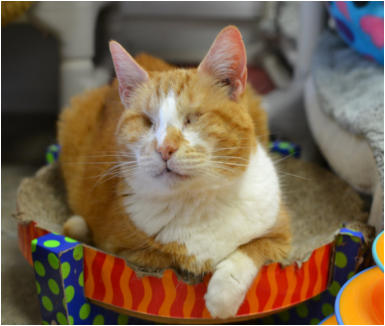 Gina is a sweet girl who came to us at 9 years of age from
animal control in NY city. She had a mouth full of rotted teeth,
rock hard eyes, tumors and had not been fixed. Her last home
of only 1 year had dropped her off because they no longer
wanted her. That was actually what they wrote! She was on the
death row list to be killed the next day when fate and a couple
of angels intervened. With the help of several people she made
her way out of animal control to us for the medical care she
desperately needed.
Now she is happy, healthy and for the first time in her life, finally
has a home forever! She is super sweet and loves to give kisses.
We could not have given her this miracle had it not been for
people like you that clicked on the donation button. We can
not do this with YOU
!
Lily came to us from our local vets office. Her previous
owners had taken her to the vet to be euthanized because
she was very sick with an upper respiratory infection.
They did not want to spend the money to treat her.
The vet talked them into signing over ownership for
her and called us.
When she arrived she was a very sick little girl
(you may see the pictures of her on her page HERE )
Because of the help of people like you, we were able to
provide her with the care she needed. Now she has a
forever home at Blind Cat Rescue where she is safe,
cared for and loved. YOU make this possible!